We Specialize in Driving Range Equipment
Golf Ball Pickers
Thrasher Golf Ball Pickers are made of electroplated steel in the USA.  Each comes with plastic baskets and a 4-piece bolted main frame.
Golf Ball Washers
Thrasher Golf Ball Washers are made of galvanized steel in the USA.  With 4 different models to choose from to fit any golf course or range need.
Driving Range Accessories
Thrasher Golf offers a variety of golf range accessories, including mats, range pails, tees, yardage markers, etc.
Featured Products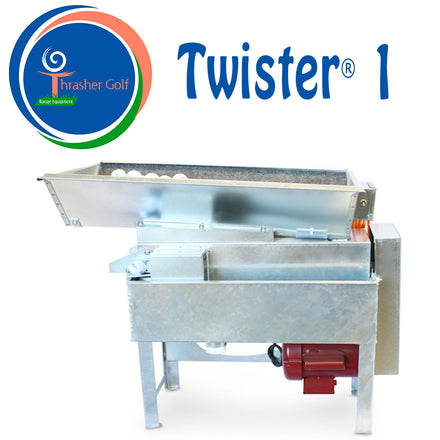 Twister 1 Golf Ball Washer
The Twister® Golf Ball Washer is the workhorse of the golf industry! And one of the most affordable golf ball washers on the market. 1/3 hp motor, belt driven - simple design and works like a champ!
Innovator Plus Picker
The Innovator® Plus Golf Ball Picker cuts picking time by 1/3! This monster of a picker will cover the same area as a 5-section with only 3 sections, and it weighs less than a 5-section picker. It is 15-feet wide; made in the USA of electroplated steel.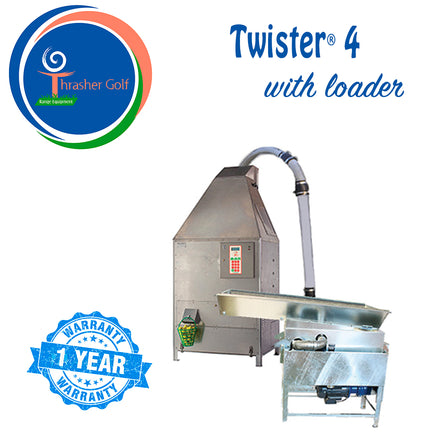 Twister 4 Golf Ball Washer
A Twister® Golf Ball Washer and Elevator in One machine! Our patented design will clean golf balls and load a dispenser (or ball machine) after the wash cycle.
Innovator Picker Turning Around
Both Innovator® Pickers by Thrasher Golf can turn around and pick in reverse! Here's an instructional video on how to reverse the Innovator Golf Range Picker. (Please note: This is an OLD picker).
Testimonials

"The main benefit of doing business with Thrasher Golf is they stand behind their products!".
– Bobby Carnes, Owner, The Range, Lubbock, TX
"Our family owned & operated golf courses have used Thrasher Golf for over 25 years. They provide a fast, competitive, and friendly service. They have treated us as family and have earned our business & loyalty. For a quick, fair, and personalized business relationship, I highly recommend going with Thrasher. You won't regret it!"
– Cole Gibson, PGA Professional; Coldwater Golf Club, AZ
"The Thrasher Golf team has been very helpful and courteous with information for any of our driving range needs. Usually ship the same day too!"
– Glen Johnson, Range Manager, Haggin Oaks; Sacramento, CA
"In 1993 I opened Home on the Range and purchased a Twister 1 Ball Washer and Thrasher Picker. After 23 years, we still use our original Twister and Thrasher Picker everyday."
– Phil Green, Owner; Home on the Range, Newcastle, CA
Our Promise to You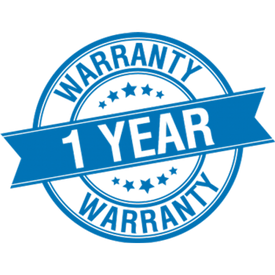 1-Year Warranty
Thrasher Golf offers a 1-Year Warranty on every piece of Range Equipment we sell.
Thrasher Golf's Products are Original
There are many knock-off products in the industry.  You can trust that Thrasher Golf is the original designer, we have the patents & trademarks to prove it!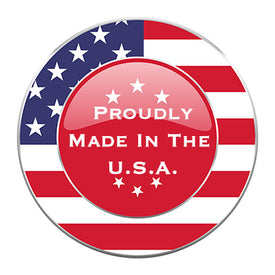 Made in the U.S.A.
Thrasher Golf's products are proudly made in the U.S.A. using American steel, American motors, American parts!
The Thrasher Family Name
No other Range Equipment company will put their family name on their business.  We will stand behind our products, because the integrity of our name means something to us.
-Destry & Melissa Thrasher